For author Jen Bryant, her love of reading, writing, and verse began with Dr. Seuss. "My mother read stories to us every night before bed. She has a very expressive voice, so titles like P.D. Eastman's Go Dog GO! (Random House Books for Young Readers, 1961) and Are You My Mother? (Random House, 1960), and Dr. Seuss's Hop on Pop (Random House, 1963) and Green Eggs and Ham (Random House, 1960) were books that I was happy to listen to as many times as she would read them. I think my first glimmer of reading comprehension came as she was reading Green Eggs and Ham out loud one evening. All of a sudden, some of those squiggles on the page matched what she was saying. Wow! I didn't sleep much that night."
Bryant, an author of highly acclaimed poetry, nonfiction picture books, and novels, began writing at a young age as well. "My father was (and still is) a funeral director and his office is next to the house where I grew up. Back then my grandparents lived above the funeral home. To get to their apartment, I had to pass through the office where my dad could often be found typing obituaries. He did this on a manual typewriter—a machine that fascinated me. When I was old enough, I was allowed to practice typing, and, of course, I used to try and copy whatever material happened to be lying around: drafts of obituaries. And what are obituaries, really, but one's life summed up in a paragraph or two? Good ones leave an impression of the person as an individual. I suppose as I practiced typing them, I must have absorbed some of the craft behind the writing of these little 'biographies.'"
Training to become a writer also came from Bryant's exposure to reading and books as a child. "I was fortunate to grow up in a family with parents and grandparents who did a lot of reading. There were probably hundreds of books in the house—many of them on history and science, but there were novels, too. The adults also read newspapers every day and did The New York Times crossword puzzles. My parents also loved the opera, so there was always some Italian tenor or French-speaking soprano booming out of the living room stereo. Looking back, I see this as a building block of my own literacy and my 'ear' for language in general."
And like in many great authors' experiences, libraries played—and continue to play—an essential role in Bryant's life and career path. "I LOVED my town's library (the Flemington Public Library on Main Street). How lucky I was to be able to walk just two blocks and spend as much time there as I liked. As a young child, I went to Saturday morning story time with Mrs. Bamber (whose impish Chihuahua sometimes snored underneath her chair). Later, when I could read longer books on my own, another librarian, Mrs. Bigger, was always handing me titles that she thought I'd enjoy. My favorite series was Walter Farley's Black Stallion (Random House). I read each of those books three or four times."
---
Quotes
I think it's important that children hear poetry as well as read it. Ideally, this sharing-mentoring-teaching should come from someone who genuinely loves poetry, too. The person who says they 'hate' poetry is the person who hasn't yet found the right poet. I'm a big advocate of allowing teachers and parents to discover poems and poets whom THEY love—so that they can communicate their own joy and enthusiasm for the genre. Kids know when you're faking it. What a shame if they get turned off early to poetry because the adults haven't taken the time to love it themselves!
I haven't written my own obituary . . . but I could easily see something brief and poetic like this: "She fed the birds,/she couldn't cook;/she was always happiest/reading a book."
How do I begin to count the ways that physical libraries are not only relevant, but essential—critical!—to our human culture?! I suppose I can start by listing the ways that I use them: as a workplace (I'm writing these sentences while seated at my favorite quiet table at my local branch); as a research source (the people, the books, the films, the e-files, the inter-library loan items, the maps, the special archives, the audio recordings); for obtaining leisure reading and films; for finding out about community events (I read, on the bulletin board here today, about a community recycling event I plan to contribute to); for attending arts and educational events; for viewing art (there's currently a photography show at my branch). I'm sure I've missed some things, but you get the idea. I don't think the digital world will ever replace what physical libraries have done so well for so long. The buildings may change, the services may evolve . . . but the critical mission will remain the same, I think.
I DO think that composing obituaries would be an excellent teaching tool because it forces the writer to be clear, brief, and accurate. I'm always telling students that much of writing is about making decisions, and composing something short and simple about something long and complex (a person's life), forces you to make those decisions: What's most important? What one anecdote or example will illuminate this individual's character? What's appropriate for this public context? –and so on.
---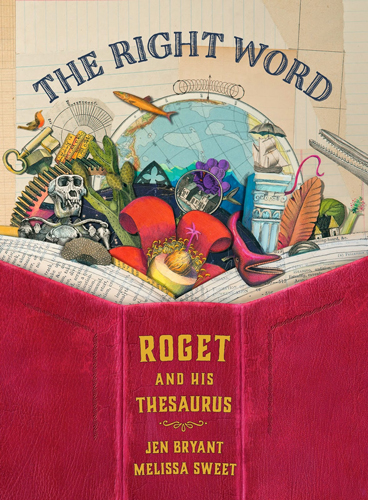 Today, Bryant still becomes excited by what she reads. Recently, she spent a great amount of time researching Peter Mark Roget for The Right Word: Roget and His Thesaurus (Eerdmans Books, 2014) which was named a 2015 Caldecott Honor Book, 2015 Sibert Medal Winner, and 2015 Orbis Pictus Honor Book.
"Whenever I begin a new book, I feel as if I'm setting out on a great adventure. Much like a physical journey—say, a long sea voyage or hiking the Appalachian Trail—I begin with a few supplies (some basic reading on my subject, a few photos, and a timeline perhaps) and a LOT of curiosity. Because setting is very important to me, I try to travel to places where my subject (in the case of biographies) has lived and worked, or, in the case of historical novels, places where the real events occurred. Not everything I see, hear, or take notes on ends up in the book. But somehow, everything informs the book, and I am always a better writer for having ventured so deeply into the materials.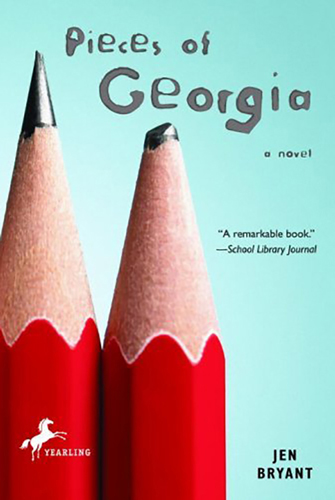 "Occasionally, distractions lead me to my next big project. In 2003, I was doing research at the Brandywine River Museum for my novel Pieces of Georgia (Random House Children's Books, 2006) when I first spotted Horace Pippin's painting 'Saying Prayers.' I loved it. I'd never seen a Pippin painting before, and when I read the small sign next to it that said Pippin was a self-taught veteran artist from West Chester, I became intrigued. I scribbled down a few things right then, and those first notes launched me on the book that later became A Splash of Red (Knopf Books for Young Readers, 2013)."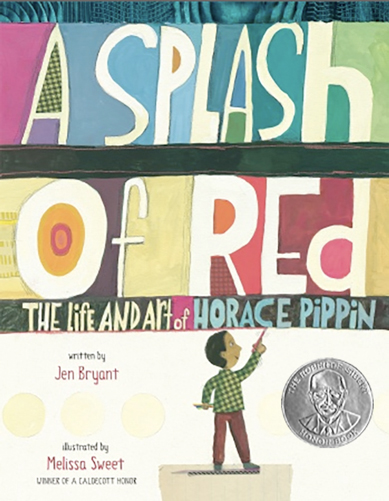 So what has captured Bryant's attention for her current project? That remains under wraps for now. However, she is likely enjoying time in the library and wandering about towns finding juicy details and refining the direction of her next title. She is also visiting schools and enjoying fan mail.
"Working with illustrators, editors, and art directors, we are creating bridges between noble lives like Pippin's or Roget's and tens of thousands of young readers everywhere who otherwise might not have known them. If the letters we're getting from these readers are any indication, they are being changed and inspired by these stories. And what more can we ask than that?"
http://www.mackinviacommunity.com/wp-content/uploads/2015/06/jen-bryant-blog.jpg
271
710
Amy Meythaler
http://www.mackinviacommunity.com/wp-content/uploads/2016/02/mackinvia-community-logo.png
Amy Meythaler
2015-07-01 13:21:06
2018-05-08 09:52:53
Jen Bryant: An Award-Winning Career Influenced by Dr. Seuss, Obituaries, and Libraries