True story: back in the "olden days" of the early 1990s when Jarrett J. Krosoczka was a youngster, he would walk miles to get new reading material. "I didn't consider myself an avid reader as a kid because comics weren't considered real reading back then. But I devoured comics! I read them in the newspaper every day, even cutting out the Garfield daily strips and collecting them in scrapbooks. And if I couldn't get a ride to the comic book shop, I would walk—and it was 1 1/2 miles each way. So I was walking three miles to get reading material, but adults weren't celebrating that fact."
Today graphic novels (aka comic books) are viewed as real and important by teachers and librarians alike, and author and illustrator Jarrett J. Krosoczka has become a leader in the genre with popular series such as Lunch Lady (Knopf Books for Young Readers) and Platypus Police Squad (Walden Pond Press).
"I have had a lifelong obsession with telling stories with words and pictures. I put my imagination down on the page and create something out of nothing. I invent characters and they live in my head and on the pages. And, as author and illustrator, I get to decide what part of the story will be told with the words and what part will be told with the pictures. I brainstorm, make a rough draft, lay out the story, revise—just like I was taught to by my third grade teacher!"
"I was raised by two people who came of age during the Great Depression. My grandfather came from nothing and worked so hard to become a successful entrepreneur. He made sure I knew the importance of hard work. And I hope that young authors and illustrators know that you need to work hard to carve out a career in the arts."
Raised by his grandparents from the age of three, Krosoczka was drawn to art from a young age. "Art has always been a part of the very fabric of my being. One of my earliest memories of drawing happened when I was in preschool. We were asked to draw a portrait of our families, and I drew my grandparents, a few aunts, uncles, and myself. (My grandparents' youngest children were in their late teens and living at home when they took me in.) Art was always an escape for me.
"My grandparents were remarkably supportive. They sent me to art classes at the Worcester Art Museum starting in 6th grade when public funding slashed the arts budgets in public schools. But even bigger than that, they always made sure that I had paper and drawing utensils available to me and in a drawer that I could access independently. My grandfather would bring home manila folders from work, and I would use them as my book covers."
"Having kids, and reading to them, has given me a deeper appreciation for many of the classics, like I am a Bunny (Golden Books, 1963). I like to read that to them in a French accent. (I read The Very Hungry Caterpillar (World Publishing Company, 1969) to my girls in a German accent in honor of Eric Carle.) It's all about making reading a joyous experience for your kids. New parents need to know to have fun with great books! If you are miserable reading the book, your kids will see right through whatever facade you put up, so curate a collection that you will love as much as your pre-readers."
Tenacious about his craft and eager to enter the art world, Krosoczka pitched his first project to the syndicates when he was in ninth grade: a comic strip called Freshmen. A few years later, he landed a paid job creating a twice-a-week comic strip called Peter's Summer in the local newspaper. "I was paid $25 a comic strip. It taught me that I wasn't interested in making daily strips and that my work had value."
---
Supercharge your classroom or school library with a ten-volume set of Jarrett Krosoczka's Lunch Lady graphic novels courtesy of Alfred A. Knopf publishers and Mackin.
Win 1 of 2 complete sets of Lunch Lady books. Contest closes March 31, 2015.
---
"In high school my art teacher, Mr. Shilale, told us that every artist gets at least two years worth of rejections before anything would happen. That stuck in my head and when I was a junior at Rhode Island School of Design (RISD) I thought, 'I need to start getting those rejections out of the way!' I knew that I needed to prove to my grandparents that I could make a living off of this art thing. As fate would have it, I received my first contract two years after my first book rejection, which was also six months after graduating RISD. I have a very nice folder of about twenty-something rejection letters."
In addition to those rejection letters, Krosoczka now has more than 25 books, two TED Talks, and a weekly radio segment on SiriusXM. In addition, he has hosted the Children's Choice Book Awards, makes school visits, and has two movies in the works.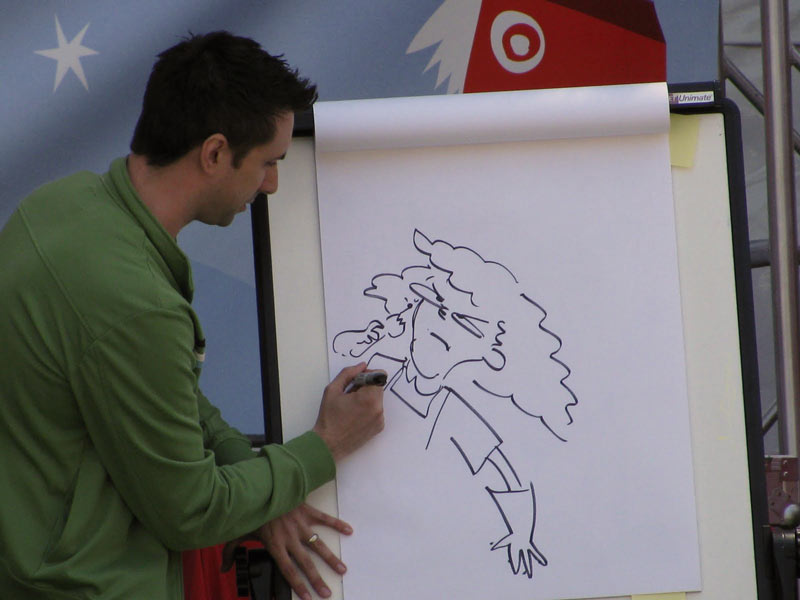 "High-concept books with a strong picture-to-text connection are crucial to creating a literate society. Every single age group benefits from these books, but I believe our emerging readers benefit most of all. From the toddler who can read the pictures in a wordless picture book to the fifth grader who gets hooked onto books because of a graphic novel, these books foster confidence. Insecurity breeds illiteracy."
"All of that is indeed true! I'm on SiriusXM every week to give book suggestions on The Absolutely Mindy Show for a segment called The Book Report with JJK. I catalog the suggestions on a Pinterest board with the aim to spread the word on a diverse group of books that are fun and inspiring for kids and their grown-ups. I am an executive producer on all of the film adaptations that are in the works, and I'm hopeful that we will get to see one of those on screens soon enough! I'm also involved with various media outlets like SiriusXM, I have become a regular contributor to FamilyFun magazine, and I'm on the Thought Leader Board for Amazon Studios developing preschool programming that encourages creativity. And I'm itching to give a third TED Talk. But above all that, I am a husband and a father. (Check my Twitter bio for proof!)"
---
Celebrating Unsung Heroes
"This will be the third year we celebrate School Lunch Hero Day, an annual celebration held the first Friday in May. And man, it has taken off to be so much bigger than I had dreamed.
"When the Lunch Lady books were first published, we launched at the Worcester Public Library. My childhood lunch ladies and the inspirations for the series, Jeanne and Betty, were on hand. I presented them with artwork and books, and the audience gave them a standing ovation. I would later learn how much that meant to them when, two years later, Jeanne passed away and her family put that painting of the Lunch Lady next to her casket. Her widower told me how much my thank-you meant to her. As you can imagine, I was very moved. It was just a simple gesture, but a thank-you can go so very far.
"I founded the day with the help of the School Nutrition Association—and social media. I am lucky to be in touch with so many educators on a daily basis via Facebook, Twitter, and Instagram. The celebration was embraced, and everyone who participated commented on what an emotional day it was.
"My objective was simple: get kids to thank their lunch staff via creative projects. Everyone benefits when gratitude is expressed. I've never met a 'lunch lady' who didn't love her or his job, but it can be a very thankless job. These folks keep our schools running by keeping our students fed. And in so many cases, these are meals that our students absolutely depend on."
---
So what can readers expect to see from this busy man next? "Well after the third installment of the Platypus Police Squad series, Last Panda Standing, the fourth installment, Never Say Narwhal, will publish in May 2016. On September 8, 2015, my next picture book, It's Tough to Lose Your Balloon (Random House), will publish. That book is the first that is directly inspired by life as a father. In 1999, when I was a senior at RISD, I wrote a picture book called Peanut Butter and Jelly Sandwiches in the Sand that listed the injustices of childhood. But it was sort of a downer and I never did anything with it. Fast forward to 2012 when our oldest daughter was three and she lost her balloon at a birthday party. She was devastated. My wife, Gina, reassured her by telling her that her grandparents, who were on a trip, would see the balloon from the sky. It was that positive twist that unearthed my old manuscript. When Balloon publishes it will be the 30th book with "Krosoczka" on the spine. Also, a shout-out to the second volume in the Comics Squad (Random House Books for Young Readers) anthology series, which will hit bookshelves in early 2016. Editing that series with Jennifer Holm and Matthew Holm has been such a blast."
Krosoczka welcomes notes from his readers via Facebook, Twitter, email, or the United States Postal Service. "I am proud to say that I do respond to fan mail. (Because I'm ashamed to say that I was negligent and let it pile up for some time…) I like getting physical mail the best. And for some reason that is just easier to stay on top of and respond to. I have a dedicated email for fan mail, and I respond to every single tweet or Facebook post. It can be hard to stay on top of it all, but I am so lucky that people are reaching out to me and so, so fortunate that I get to use my imagination for my full-time job."
http://www.mackinviacommunity.com/wp-content/uploads/2015/03/jarrett-krosoczka.jpg
271
710
Amy Meythaler
http://www.mackinviacommunity.com/wp-content/uploads/2016/02/mackinvia-community-logo.png
Amy Meythaler
2015-03-19 09:52:39
2018-05-08 09:52:55
Jarrett J. Krosoczka: Celebrating Comics and Creativity