"Avid is a mild term for how I read as a child, and writing came a close second," says Karen Cushman, award-winning author of historical fiction. "I cannot remember not reading; the first formal writing I recall was a Mother's Day card I wrote for my mother that ended, 'Some greetings are mushy without being real. If you want mush, try oatmeal.' I was six."
Though reading and writing were early passions for Cushman, she chose to follow a different path when selecting a career. She actually pursued academic degrees in Greek and English, human behavior, and museum studies. With her diplomas in hand, she embarked on a career in education as a professor in the Museum Studies Department at John F. Kennedy University.
"Museum Studies are academic offerings that aim to prepare people to work in museums as educators, collection managers, or administrators. My last year teaching in the program I worked with students writing their master's theses, and that taught me a lot about writing, organizing, and taking a project from big idea to achievable product. I think that experience really set me on my way to writing a novel."
"I think young readers benefit from historical fiction, which can help them develop a feeling for a living past, by illustrating the continuity of life, and giving readers a sense of history and their place in it. Historical fiction allows a glimpse of the lives of ordinary people, who are people like us, thus increasing sensitivity and understanding. Good historical fiction uses the past to better understand the present."
Though Cushman decided to focus on museum studies, she always had the desire to write. Finally, that desire was turned into action. "One morning over twenty years ago now, I woke with an idea for a story in my head. It was about a girl, an ordinary girl, like me. This girl, however, lived 700 years ago. She was at odds with her time and her family, didn't want to do what was expected of her, and thought she had no choices and no options. "I told my husband 'I have this great idea for a story.' He said, 'You've been saying that for 25 years now and I've never seen a word. This time I won't listen—but I'll read it if you'll write it down.' So I did. I wanted to know what happened to that girl and the only way I could find out was to make it up and write it down."
The result of her first writing attempt became the Newbery Honor book Catherine, Called Birdy (Clarion Books, 1994). Her second attempt became the Newbery Medal book The Midwife's Apprentice (Clarion Books, 1995). And since then, she has published six more historical fiction novels about strong, young characters overcoming adversity.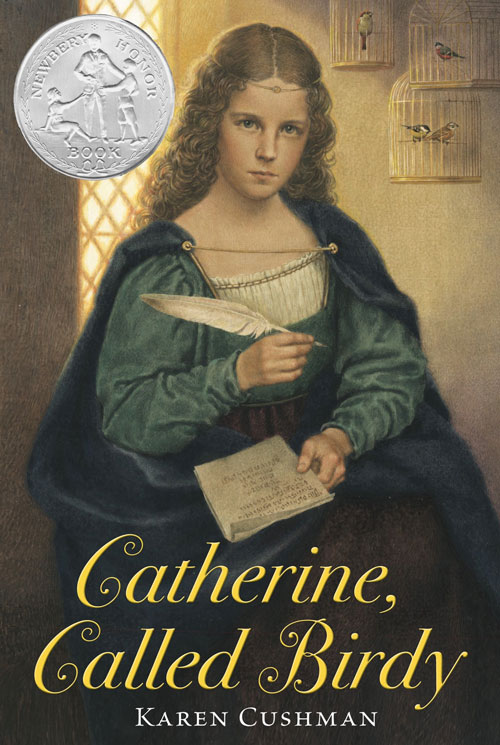 Today, Cushman continues to write by responding to fan mail through her website as well as penning new books. "I plan on writing as long as I have ideas and a computer. What else would I do? I don't knit, tweet, or play bridge. I am currently working on a fantasy—maybe better called a medieval novel with magic—called The Song of the Wise Woman's Daughter. The manuscript is now with my editor for a third round of revisions."
http://www.mackinviacommunity.com/wp-content/uploads/2014/10/karen-cushman-blog.jpg
271
710
Amy Meythaler
http://www.mackinviacommunity.com/wp-content/uploads/2016/02/mackinvia-community-logo.png
Amy Meythaler
2014-10-01 14:08:41
2018-05-08 09:52:58
Karen Cushman, Author of Newbery Medal and Newbery Honor Books